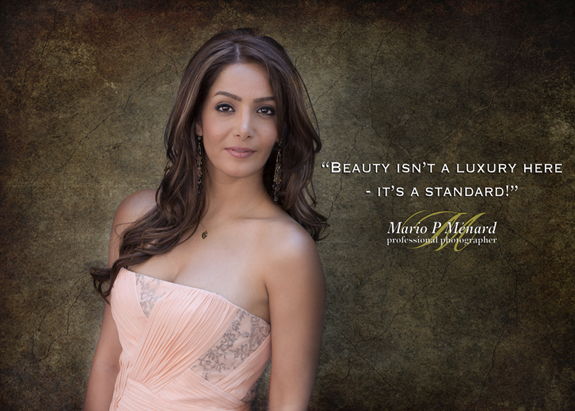 Professional Photographer
Mario P. Menard
_____________________________________________________________________
Ottawa Portrait Studio – Packages
Family portraits are archives that will last forever and deserves the attention of a real professional. We offer sittings in the comfort of your home, in our studio or in the many beautiful parks of Ottawa.
Our work speaks for itself and our prices are very competitive. Each family photos we produce is edited, retouched and is printed on the best professional photo paper to stand the test of time.
Call us today at 613 866-7548 for a booking!
CREATION FEES
Ottawa Portrait Studio
In Studio: Individual Portraits, Small Family & Couples $84.00
In Studio: Family of 5 to 8 people $99.00
Park – Location
Couples, Family or Group of Up to 6 People $165.00
Park location: Group of 7 People or More $190.00
Park Location: Group of 7 people or More Plus Individual Families $239.00
Indoors On-Location Studio (Mobile Studio)
Setup Fees & Photo-Shoot: Group of 7 – 15 people + Individual smaller groups $325.00
Groups 16 people or more – Call Studio for info
A La Carte – Enlargements
Per Sheet (one 8X10 OR two 5X7′s) $26.95
11X14 Wall Enlargement $69.95
12X18 Wall Enlargement $99.00
16X20 Wall Enlargement $129.00
20X24 Wall Enlargement $179.00
24X30 Wall Enlargement $225.00
All our family, couple's portraits are carefully retouched and printed on professional photo paper.
FREE PHOTO-CD WITH PURCHASE OF A PACKAGE*
(For a limited time only receive a Photo-CD containing your selected package photos)
Great for sharing online and for social media!
Model Portfolio – Package
$589.00
(includes 50 poses photo session, retouching & skin softening + Photo CD + 10 8X10 enlargements)
Ottawa Business Portrait
Business Headshots
includes 20 pose executive photo session, retouching & skin softening.
Photo CD containing full resolution and compressed files for web & email plus two 5X7 prints
See results & choose instantly. Receive your CD in one hour!
$149.00
See results INSTANTLY on a large monitor & choose your portraits!
Fast turn-around time!
CONTACT US
info@ottawaportrait.com
Tel: 613 866-7548
Family Portrait Studio, Couples, Children Portrait, Engagement, Quinceanera, Quince Anos, Fiesta Rosa, High School Senior,  Special Occasions, Anniversary, Photos, Pictures, Family Portraits, Professional Photographer, Ottawa Portrait Studio, Prom photos, special event